Effects of the Recession on Marina Vacancy Rates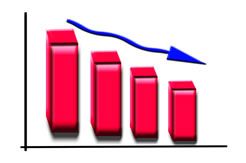 Many marinas are feeling some effects from the current "recession".  Third-tier marinas, those in rural locations (defined as not within walking or biking distance of a town or city with a variety of things for boaters to do) are affected the most… by far.
Here are some trends I'm seeing from our marina surveys:
Vacancy rates have increased slightly in most marinas.
Service revenue is holding steady in well developed and well positioned marinas, but way down in the rural facilities.
Moorings typically have the highest vacancy rates due to their lack of water and electric service and they have increased noticeably in second and third tier marinas; for many marinas, mooring vacancy has increased.
The larger boat slips (50 feet plus) are full and the vacancy is primarily in the 28 to 40 foot boat range.
Many marinas did not raise their rates for the 2008 season to help maintain occupancy.
The number and length of boat trips is way down.  A higher percentage of owner-repairs are happening or being postponed in second and third tier markets, decreasing marina boat repair revenues.
First tier marinas, those with the best locations, the widest range of services and generally the highest percentage of 50 foot+ boats, do not seem to be affected much.
Sailboat supported marinas have higher occupancies.  This is because the cost of fuel has made many powerboat users keep their boats out of the water or sell them.
Across the board, conservatism and belt-tightening are happening in the industry.  It's no different with all of us.