How to Calculate Dollars Saved from a Marina Tax Appeal
Yesterday I got the latest Marina Dock Age magazine, the January/February 2009 edition.  Call it a personal quirk or an eccentricity – I just had to read my article entitled "Tax Appeals May Combat The Inflated Property Values Of Marinas" on pages 43 and 44.  Now you can too.  Don't worry – I won't think you're eccentric.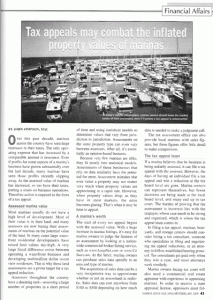 The article addresses the most common question a marina owner asks us when they inquire into a tax appeal:  "How much will I save?"  In the article I show the math so you too can figure out how much money you could save.  You know what they say – a penny saved is a penny earned.
The article also goes into the basics of the tax appeal process, developing a tax appeal team and some sources for calculating how much your marina is worth from free or cheap information sources.
Check it out.  If you have any questions, email me.
Have fun!